HISTORY MATTERS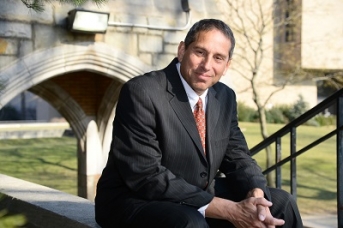 Dear Friends,
I am pleased to introduce myself as the new chair of the UCLA History Department and to invite you to explore our website. I've titled this message "History Matters," and I hope you'll find here all kinds of matters to do with the History Department. On this site, you'll discover information about the teaching, scholarship, and honors of our faculty, about the courses we're offering, about the requirements for history majors and graduate students, about the dissertations being written and the placements of our Ph.D.s, about the scholarly and public programs we're convening (and links to view previous programs), about how to contact our personnel, and about how to contribute to the vital work of the UCLA History Department. But more than informing you about matters historical, I hope the website will enhance your appreciation for how history matters, for how the courses we teach, the books, articles, and dissertations we author, and the workshops, lectures, and conferences we sponsor provide vital perspectives on worlds that were – and on the world that is and might be. The goal of the UCLA History Department is to provide cross-temporal and cross-cultural perspectives and to bring historical knowledge, depth, and context to our students and to the broader public with whom we constantly interact. That mission informs our scholarship and our teaching and it calls us to engage with our students beyond the classroom and with the public beyond the university.
Making history matter mattered a great deal to my predecessor David Myers, and it shaped his tenure as chair of the UCLA History Department. Over the last five years under David's leadership, our department has formed several "clusters" (now rechristened as "emphases") that have fostered collaborations among faculty, brought together graduate students from different fields, and created new courses for undergraduates. Through our now well established "Public History Initiative," "Why History Matters" programs, and "HistoryCorps" internships, our recently launched "History and Policy" project, and our soon to be unveiled "History@work" enterprise, we have taken the lead in bringing historical knowledge into the public sphere. With funding from the Mellon Foundation, we are at the fore of the American Historical Association's efforts to expand career opportunities for doctoral students. And with unparalleled support from generous benefactors, we have guaranteed packages to all admitted graduate students, established numerous endowed chairs for faculty, and sustained a range of scholarly and public programs and staff and teaching positions.
In future "History Matters" messages, I'll spotlight these and other projects. For now, have a look around the department website and learn more about the incredible range of historical subjects on which we research, write, teach, and talk. After doing so, I hope you'll be inspired to enroll in our courses, attend our programs, and embrace our mission. Don't hesitate to contact me (saron@history.ucla.edu) to let me know what you think about what we're doing and what we might do.
Best,
Stephen Aron
Professor and Robert N. Burr Department Chair